The Mammoth Follies began before we'd even arrived in town. 
Less than an hour outside of Oakland, B's phone rang with news that some mundane, unfinished business might drag him away from the mountains and back to the Bay.
From the front seat, we argued the untold benefits of a week in the mountains, that the ancient rock faces and bracing alpine swims would cure all earthly woes. But more phone calls and rumination later, he asked to be dropped off. Surreally, we found ourselves depositing the third member of our group along with all of his gear at the town cemetery in the Central Valley town of Oakdale. We left him in the broiling summer sun.
This was a massive bummer. And perhaps the appropriate beginning to a pretty weird trip.
The rest of the drive was less eventful, with the exception of a quick, heavy downpour east of Tioga Pass -- a presaging of more Follies to come.
Soon enough we were in Mammoth, a ski town wearing its high summer clothes. We ate mediocre pita, checked into a hotel, and watched the Simpsons.
A trailhead bus system is one of the necessary if confounding aspects of a tourism hub like Mammoth Lakes. In fact, we almost missed our bus, but soon enough were bumping along the road before making one final stop at Devils Postpile.
The first day was a customary long climb through uneventful forest. My mind enumerated its irrational bullet points of why I shouldn't go on this trip at all -- an annoying but seemingly necessary off-gassing in the transition between city and mountain life.
Eventually we reached lovely Lower Beck Lake, and the high country beyond.
Halfway around the north shore of the lake, we were surprised to find ourselves negotiating an unstable talus field. We were so close to our destination, but so far.
After a few curse words, we popped out on the other side and were greeted by Upper Beck Lake.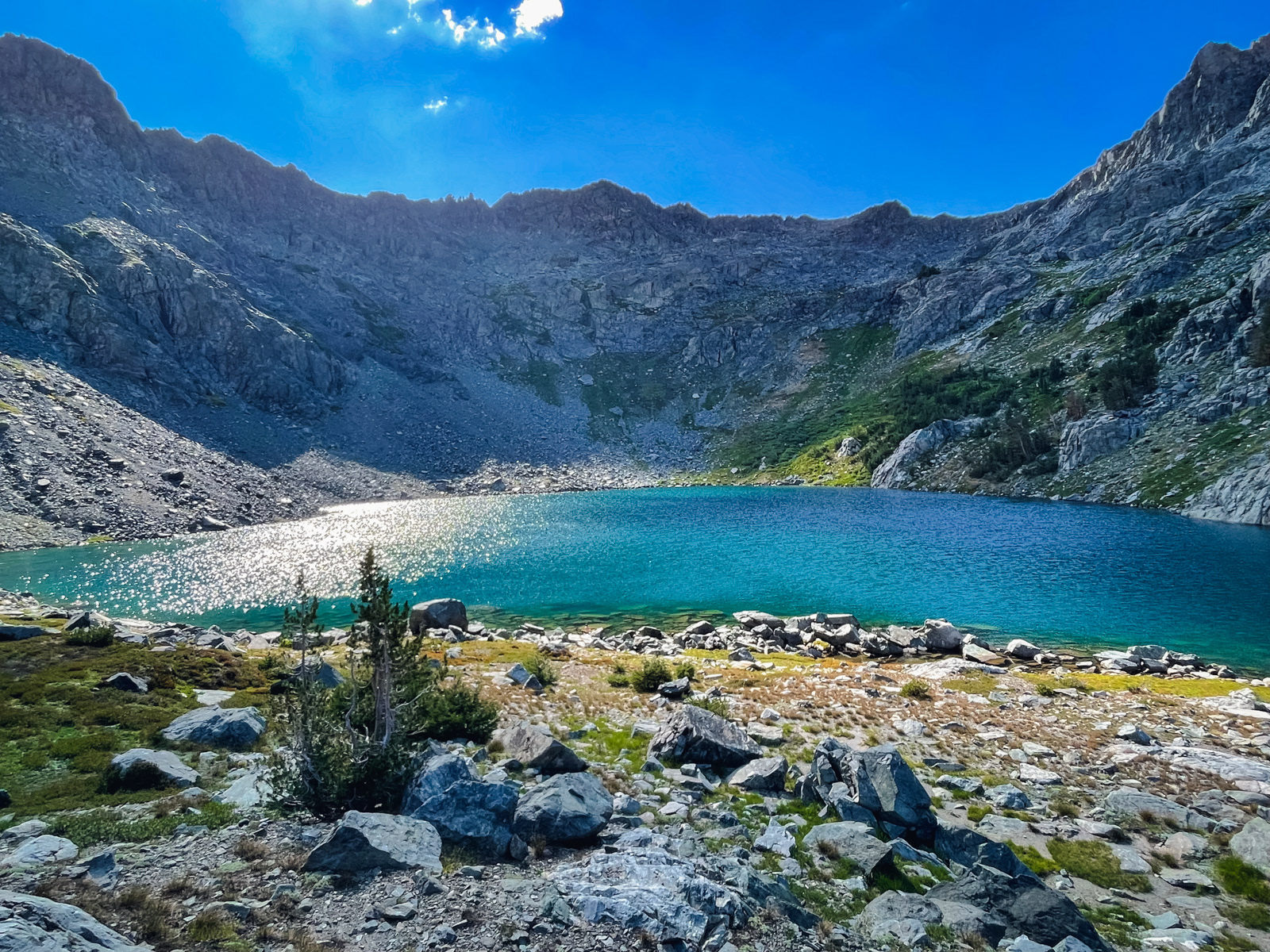 We spoke to a trio of departing day hikers, who soon left us with the massive lake to ourselves. This was fortuitous, as we scoured high and low for good camping and found almost nothing that one could reasonably consider a flat, durable surface.

Our patch of dirt was so small that the guylines of our tents crossed. 
It was a typical first day -- 10ish miles, 3,000-ish foot gain.
We slept surprisingly well for a first night at elevation. In the morning, we had an unusually clear view of our route to Beck Lakes Pass.
We were packed and walking bright and early.
"Hard" things in the mountains often look impossible from afar and more reasonable up close. This was an exception: the soft, grassy hillside looked easy from the lake. But up close, some of it was comically steep for 8 AM.

The view back down to Upper Beck Lake was astounding (with a tiny bit of Lower Beck peaking out).

We reached the base of the final chute. The terrain was large, stable talus covered by small, loose granite, which proved to be surprisingly slippery and a bit unnerving.

We ascended the left (west) side of the chute, which looked better from below. We hugged the wall, often using it as our only truly stable point of contact. From the top, the other (east) side of the chute looked a bit better. In the end, I imagine they're roughly the same.
At the top, we assumed that the hard part of our day was dispensed with and we'd now enjoy a relaxing late morning stroll down the rarely visited Iron Creek.
But descending to Iron Creek was cliffy and tiresome. Related fact: we were descending 1,500 feet in about a mile. Still, it looked like this.

By the time we'd made it down to the creek, we were tired and my partner's knee was really bothering him (dropping 1,500 feet per mile will do that).
There is a tiny person with a throbbing knee in the middle of this photo.
Although the initial steep descent was out of the way, the rest of the morning proved slow. I had pictured a creekside stroll along streams and through meadows: classic Sierra shit! But the terrain rarely seemed to cooperate. Everything was a little harder than expected.
It
was
 pretty: the reddish rock is surely related to the name of the creek itself.
Eventually we reached a small clearing of half burned trees. This was not unexpected: for the next few hours, we would be tracing the northern edge of 2020's massive Creek Fire.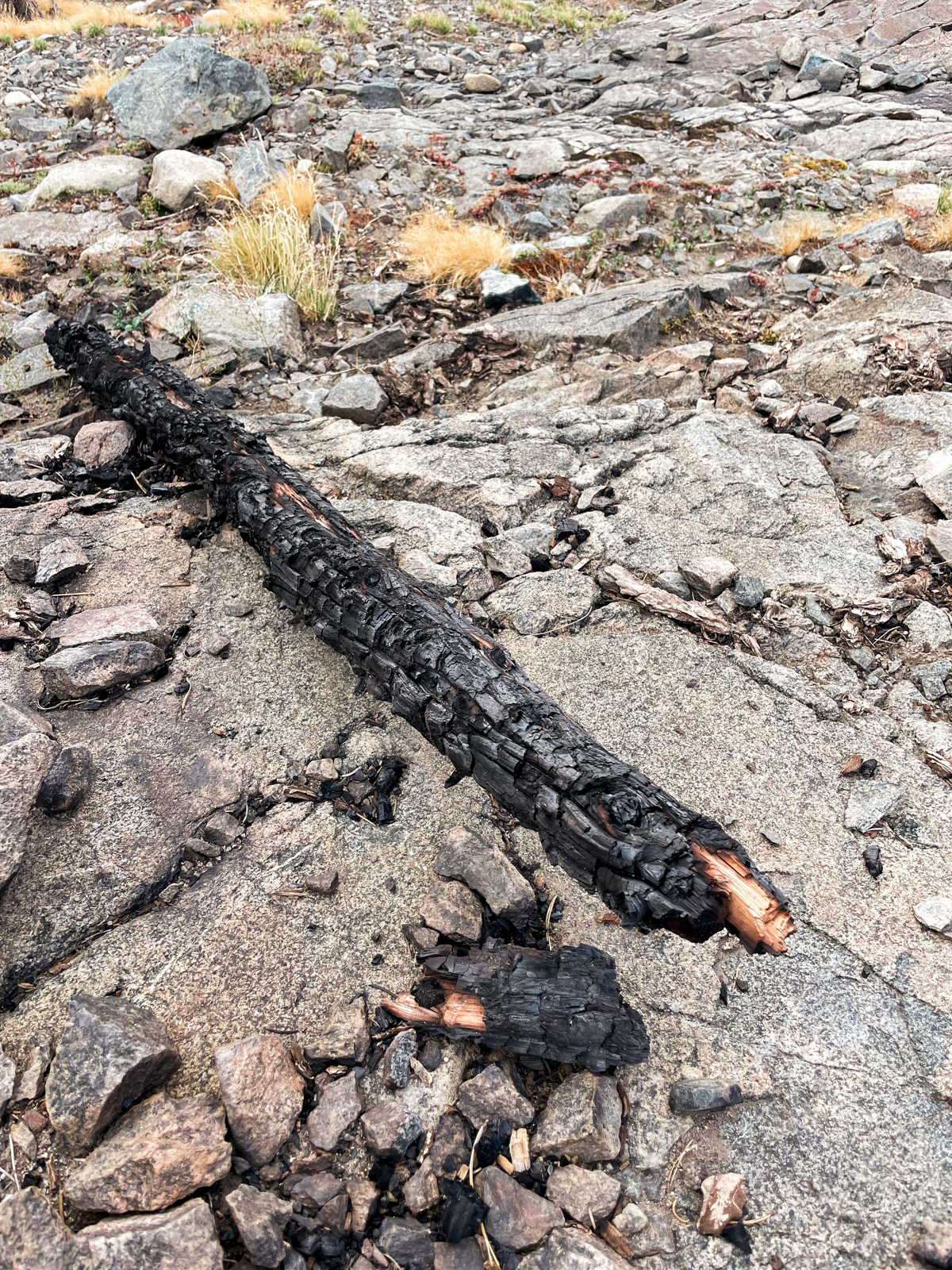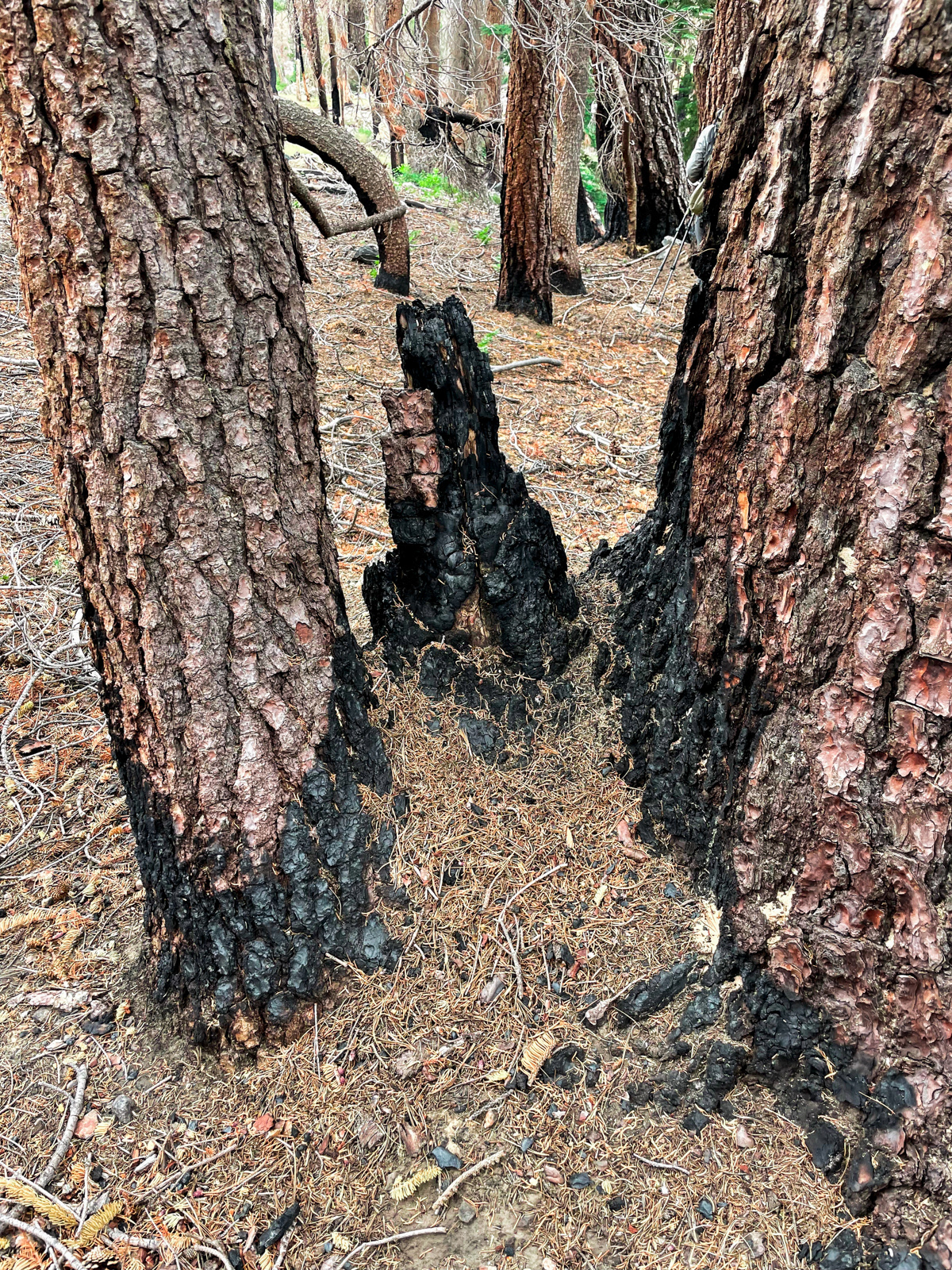 Before the trip, I'd thought it would be interesting to see the effects of fire so soon after the embers had cooled. And it
was
interesting. But the main thing I felt was sadness. I'm not sure why I had expected otherwise.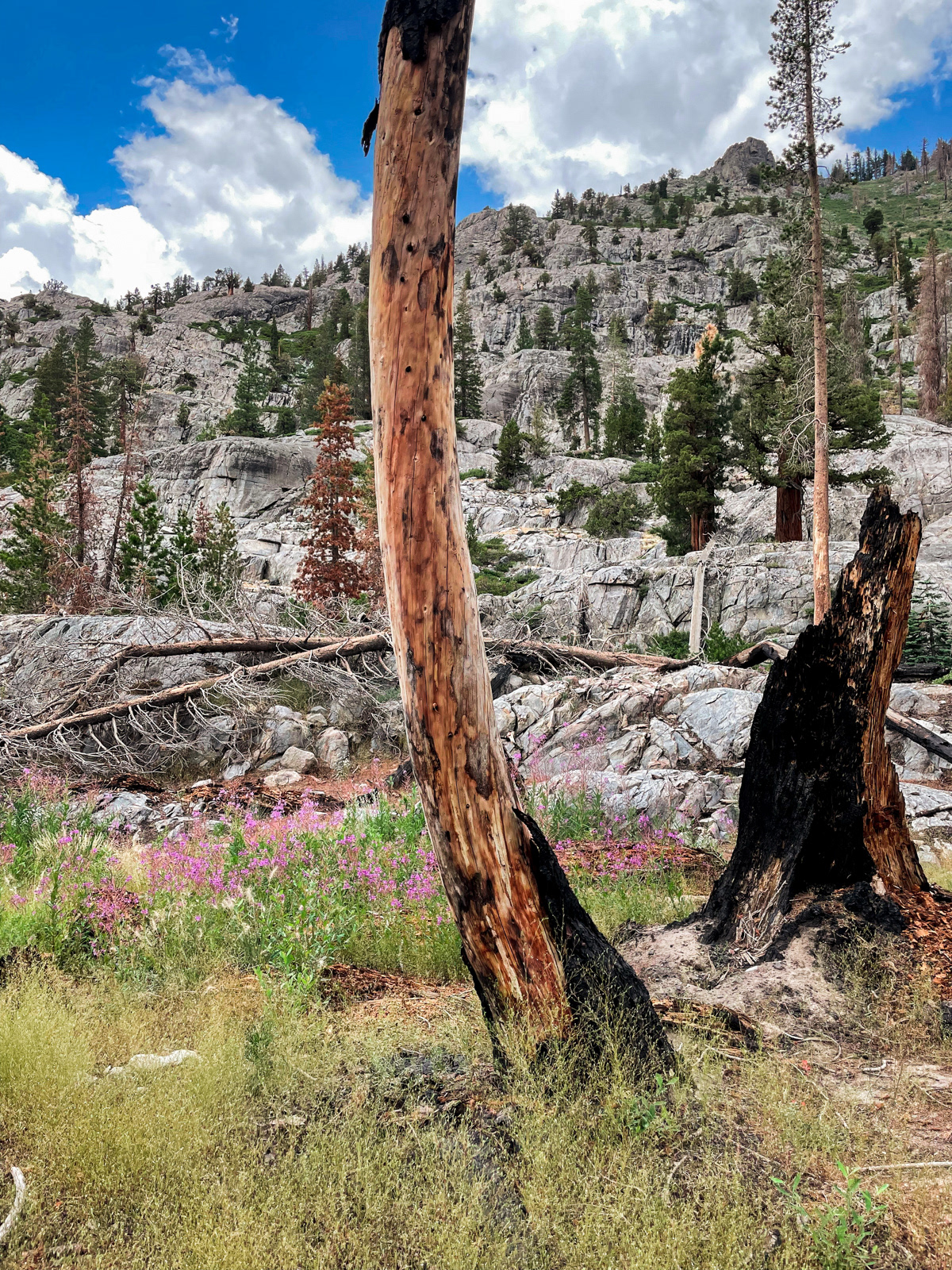 Fire is a natural and necessary part of the Western ecosystem, and one that has been woefully mismanaged. But it doesn't take much scientifically-sound research to understand that whatever is "natural" about fire is now being supercharged by climate change. We are likely in for a troubling future in this regard.
As we neared the trail to Hemlock Crossing, we maneuvered around a series of cliffs pouring off into pool after pool. It was beautiful.
We came across some "rock art": the first clear sign of other humans that we'd seen all day. Iron Creek is one of the few places in the Sierra where I didn't see a single use trail, campsite, cairn, or anything at all to let you know that others had also passed through this difficult landscape.
It had taken us six hard hours to hike six short miles, so we were deliriously happy when we popped out on the Hemlock Creek trail.
Of course, my hiking partner immediately bashed his head on a branch -- hard enough that we were concerned he might have a concussion. The Mammoth Follies continued.
Fortunately, he seemed fine. Unfortunately, our dream of mindless, clear trail was not to be.
These  photos were taken ten minutes apart. Both are "the trail." We lost and found it several times. Some obfuscations may have been nudged along by the Creek Fire, but it seems more likely that this trail has been sliding into disrepair for years.
We finally made it to Hemlock Crossing, and we were exhausted.
The original plan had been to hike another three off-trail miles up the west side of the canyon along Long Creek. Folks, that was simply not going to happen. My friend's knee was throbbing, my feet were covered in fresh blisters, and it was about to rain. We were struggling. 
In fact, our entire route now looked questionable given our slow speed and the severity of the forecast. It was hard to imagine a pleasant way to get through the high, exposed sections each day before the expected afternoon thunderstorms. It was technically possible, but would call for woeful, pre-dawn slogs each day.
Soon, it was raining and thundering, with some distant lightning thrown in.

Hemlock Crossing is very low -- 7500 feet! -- and I had not considered it as a destination. To be honest, I had not considered it at all. When planning the route, it was a dot on the map, a faceless waypoint between more interesting places. But in the crisp, cool air after the storm it was glorious.
The mighty San Joaquin thunders down a string of massive pour offs, glorious and deafening.
We were treated to a magnificent sunset.

In the morning we embarked on a greatly pared down route: gone were Long Creek, Harriet Pass, the headwaters of Lyell Fork, Foerster Ridge Pass, Blue Lake Pass, and Bench Canyon (wah!).

Instead we would continue up the canyon on the old and likely unmaintained Stevenson Meadow trail, which would eventually link up with our original route at Twin Island Lakes.

Considering our low elevation, we weren't sure if we'd spend the day hiking on cruiser trail or bushwacking through a nightmare of willows. Both were possible.
It turned out, unsurprisingly, to be a bit of both. From Hemlock to the base of Bench Canyon was mostly on good trail.
Stevenson Meadow (one of the only places we heard even the faintest buzz of mosquitoes).

It was quite beautiful -- a cross between the mighty Kern Canyon and the softer granite shapes of Emigrant Wilderness.
(I managed to not take a single photo at the confluence of Bench Canyon and the San Joaquin, but the bottom couple hundred feet looked like a bunch of slow talus, for those considering that route.)
I wager that most who walk this way are heading up or down from Bench, as the trail is more of a suggestion north of that confluence. However, the OSM trail in Gaia is quite accurate: we lost the trail several times in wide, overgrown meadows, but following the digi-breadcrumbs toward the OSM track got us back on course soon enough.

Clouds had started building by late morning, a reliable sign of impending spiciness.
We lost the trail for a good long while, but found it again just before our one and only creek crossing. It looked very swift and of indeterminate depth. We didn't like it.
We quickly worked ourselves into a frothy lather of worry and spent the next 15 minutes madly scouting for a safer crossing. A hundred yards upstream we hit on a spot that looked better, but still fast. It started to rain. We hemmed and hawed about this crossing too before finally plunging into the great unknown... only to discover that it was barely shin deep and a piece of cake. 
It was humbling to realize how quickly this rush of anxiety had warped our minds. We truly hadn't seen what was right in front of us. You could chalk it up to two difficult days, lack of sleep and an imminent storm. Whatever the cause, it's just so easy to lose track of yourself out there.
(All that said, moving water is totally scary! And should be respected! And I do wonder about the feasibility of crossing this creek early season in a high or even average snow year. It was flowing
hard
, albeit low, at the end of July in a record low year.)
We settled at a lovely site on the other side of the crossing. It had the flavor of an old packer site: a big fire ring and proper rock chairs, but no sign of recent use. The sky threatened and eventually rained lightly for a couple hours, with far more serious-sounding weather to our north.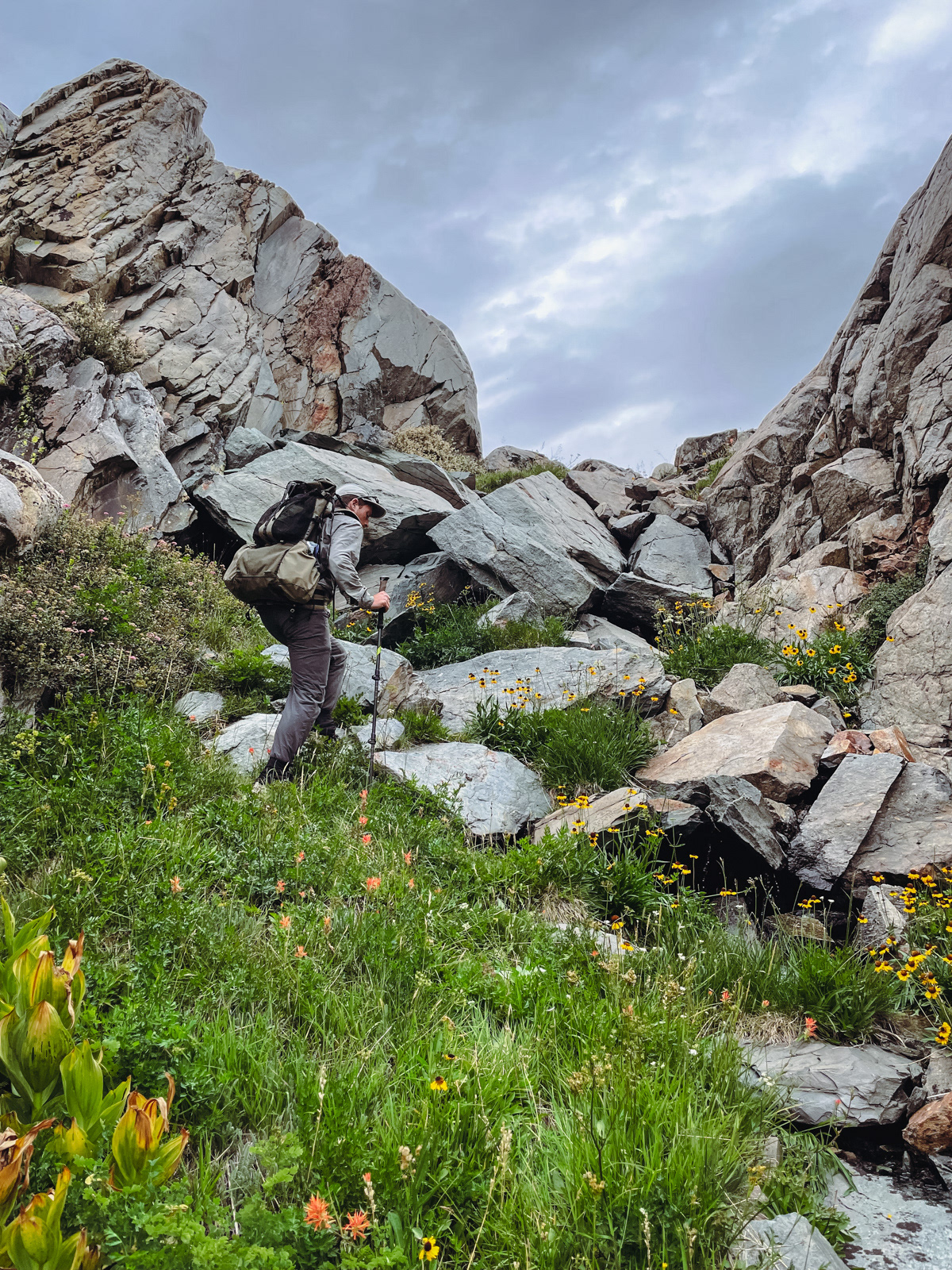 Eventually the rain puttered to a stop, and we decided to stroll up out of the canyon to scout tomorrow's route and see Twin Island Lakes, which we would otherwise miss on our curtailed journey along the Sierra High Route. The route out of the canyon traverses a series of streams, flowers and grassy gullies.
We were camped at the head of this glorious unnamed canyon. It seems ripe to be christened Stevenson Canyon, but what do I know. Roper calls it a "classic, U-shaped valley" in his book on the Sierra High Route, and that is also a good description. It's interesting to think how many people walk by this spot on the High Route each year, but how few must visit.
Navigating our way to the lakes involved some comically roundabout traverses of granite. It's not hard, but it does feel like the Sierra Gods resolutely do *not* want you to go to Twin Island Lakes.

The next morning, we retraced our steps up and out of the canyon. We stopped to consider our route across. From the canyon floor below, there appear to be three harrowingly steep, green catwalks woven between sheer cliff bands. The middle one is the clearest path, though they all look steep from afar. But up close, as usual, it's clear that this thing goes.
Not only does it go, but there is a full-on trail. I didn't take a photo of it, but it was wide, solid and seemed more sturdily engineered than a "use trail" -- we wondered how long humans had been using this route.
The morning view down "Stevenson Canyon."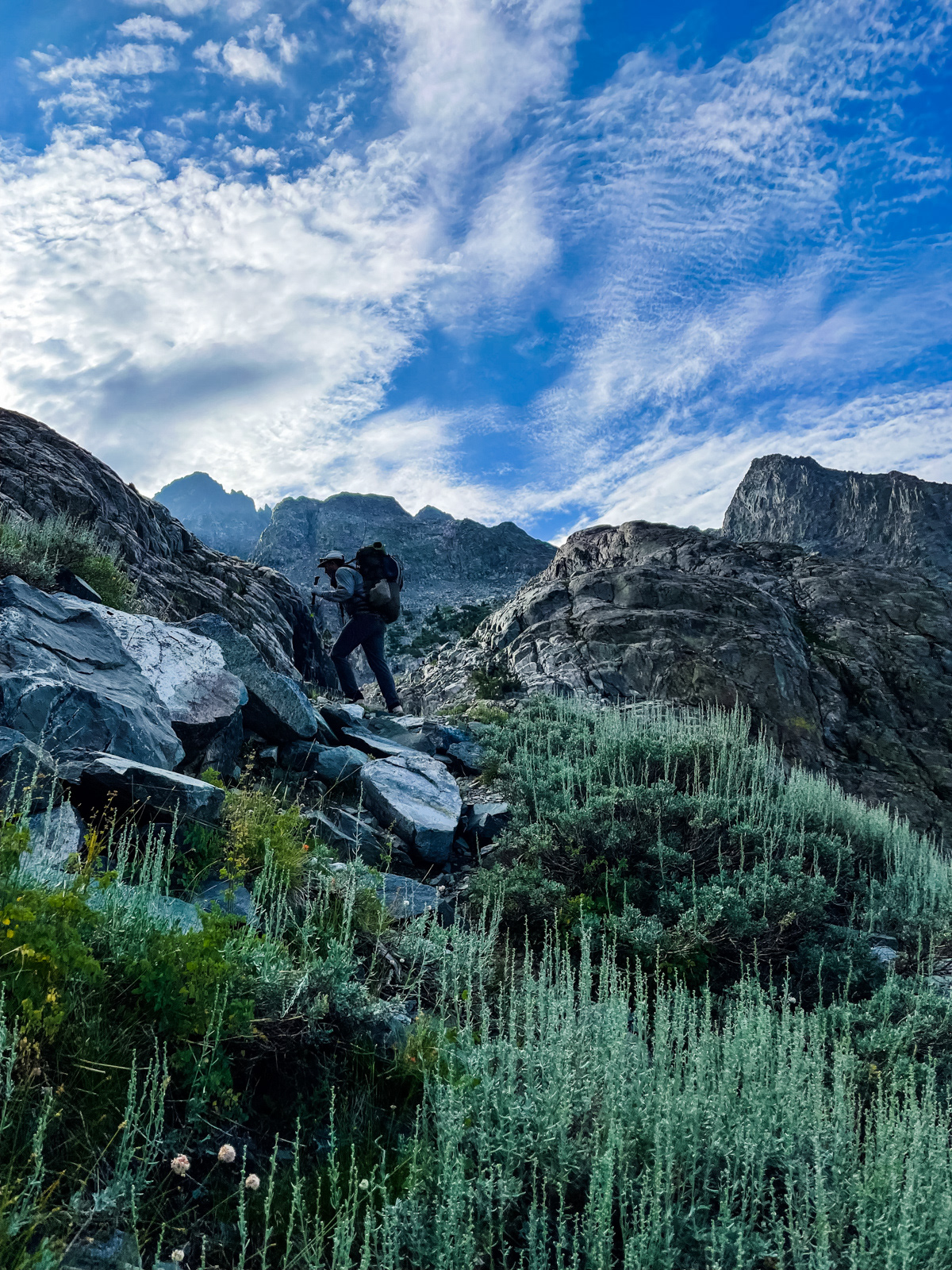 We climbed what Roper describes as "a loose gully" (though it again had a fairly obvious trail) and made it to his "isolated grove of pines." We unfortunately did not take a break or even pause here for more than a few seconds. The day's forecast called for torrential rain, and we were heading for the highest and most exposed terrain of the trip. We wanted to get through that section by noon, which precluded much dawdling.
Instead we pushed on, following streams and gullies up striking red rock formations. 
Eventually we made a sharp right turn towards Roper's "isolated meadow." This turn is not obvious, and without a GPS track we could have easily missed it. (These photos are in the vicinity but are not particularly indicative of that turn.)
We did finally take a break at this striking tarn.

Simply put, the mile and a half between Twin Island Lakes and this "isolated meadow" is god-tier Sierra. I could not recommend it more highly and it's a shame that we were in such a hurry. I suppose we'll just have to return.

The next section leads up a string of tumbling waterfalls. Our natural inclination was to stay close to the cascades, but the terrain eventually cliffs out that way.
Instead, one veers a bit north on top of a mass of angled granite. While it does involve pulling yourself up by your hands (thus the 3rd class distinction in Roper's book), it is not particularly hard or exposed. Once on top, it's relatively smooth sailing.
After a bit more climbing and the beginnings of some talus hopping, the grasses gave way and we entered the austere world of rock typical of the Sierra above 11,000 feet.
We finally made it to the stunning Lake Catherine, with Ritter and Banner in the background.

We'd made it here by 10:30 -- a solid effort given that we'd climbed 2000 feet in just over two tough cross country miles. Now it was time to get over North Glacier Pass and down to Thousand Island Lake before the storm. Since it would be mostly downhill, we thought we were in good shape. But we had vastly underestimated the far side of North Glacier Pass (the low point to the left in this photo.)

At the top of the pass, we were greeted by our first view back to the east of the Ritter Range, where we had begun our trip.
We were also greeted by talus. So much talus. We followed a use trail for ten blissful feet but otherwise were on our own to traverse this silent minefield of enemy stone. It took us a long time to make it a short way. My mind began to falter a bit: all the infinitesimal decisions of where is or isn't a safe place to put your foot or hand or pole adds up.
(Apparently there is a use trail farther to the west amidst the hell stones? We did not see any sign of it.)
We eventually made it through and -- from famine to this feast -- we now found ourselves strolling through an unparalleled valley. It felt like the Alps. There should be a hut up here that serves pasta, prosciutto and a glass of wine for 15 Euro.
As we caught sight of Thousand Island Lake for the first time, it was hard not to notice that the clouds were building and darkening.
We hustled down to the lake, which is one of the nicest I've ever seen. While it's about as popular as a backcountry lake can be, it is also enormous and we found a fairly secluded spot along the northern shore.

And not a moment too soon: it began to rain, hail, and thunder and did not stop for
two and a half hours
. I've not seen anything like it in the Sierra.

Unfortunately, I was set up on granite, and the small pools of water beneath my sleeping pad started pushing water up through some unknown pinholes in the DCF floor of my tent. Folks, this was a downer. I wasn't floating in water, but the floor was soon soaking wet and the weather showed no sign of slowing down.
While there was a lot of thunder to the southwest, we didn't notice any lightning around us. When we got home a few days later, we learned that a hiker had tragically been struck and killed by lightning 30 miles south during this very storm, a sobering fact that put the "tragedy" of my wet tent in its pitiful perspective.
We wandered around in the gloomy, post-storm atmosphere and received an updated forecast on my satellite phone: heavy rain and flash flooding tomorrow and a more traditional "50% chance of thunderstorms" the day after.

After days of rain and lightning, weird little injuries, a radically altered itinerary and now a tent that no longer functioned as intended, this news was all I needed to suggest that we head back to town the following morning and lick our wounds in relative comfort. These Mammoth Follies were doomed from the "Cemetery Dropoff" onward.
To his credit, my friend was not on board with this plan. We ultimately decided to take a layover day at Thousand Island Lake and see what the weather had in store.