We woke late to the sun blazing through our flimsy tents. I did my best to dry everything.
We decided to walk around the lake -- how big was it, really?

The western shore is so far from the JMT that it feels closer to legit wilderness again.
Halfway around the lake we stopped for a quick dip. It turns out that it takes 4.5 miles to circumnavigate Thousand Island Lake. A big ass lake!
We got back to camp, ate lunch, and agreed that it would start raining in 10 minutes. But it didn't. We wandered back down to the lake and then explored the rolling terrain to its north. We lay on the polished granite and watched the sky, waiting for imminent weather that never quite arrived. Distant thunder rang out now and then.

We found a glove and marvelled at the "topographic map rocks" that one sees around the Sierra.

There was not a drop of rain. So much for the forecast.

The sunset did not disappoint.

We woke to clear-ish skies and a lot of condensation on our tents. We were soon off towards Garnet Pass.
In the niche world of cross country passes, Garnet is about as easy as they come.

From the lovely valley on the other side we could see Whitebark Pass (center) in the distance, our next destination.
Though Whitebark was our intended route, it looked like a slog, and we wanted to check out Garnet Lake below.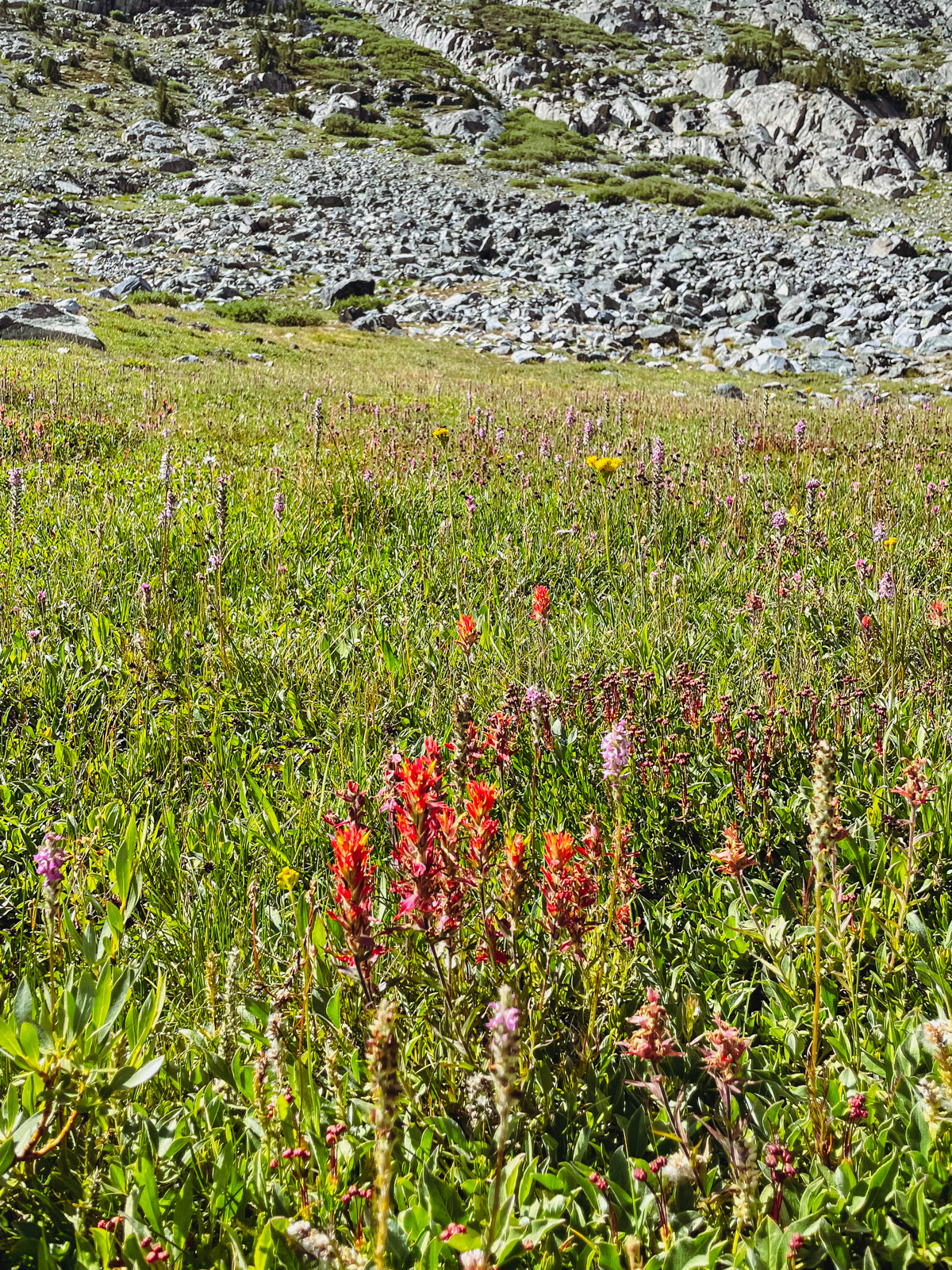 We found a mylar balloon. Please note that the helium balloons of Fresno, etc will eventually end up as sad trash next to glorious Garnet Lake, where it will never biodegrade.

Long ago I'd read about an alternate route between Garnet Lake and Shadow Creek. I didn't remember the details, but there looked to be only one reasonable route anyway, which passes a few small tarns east of Peak 3267.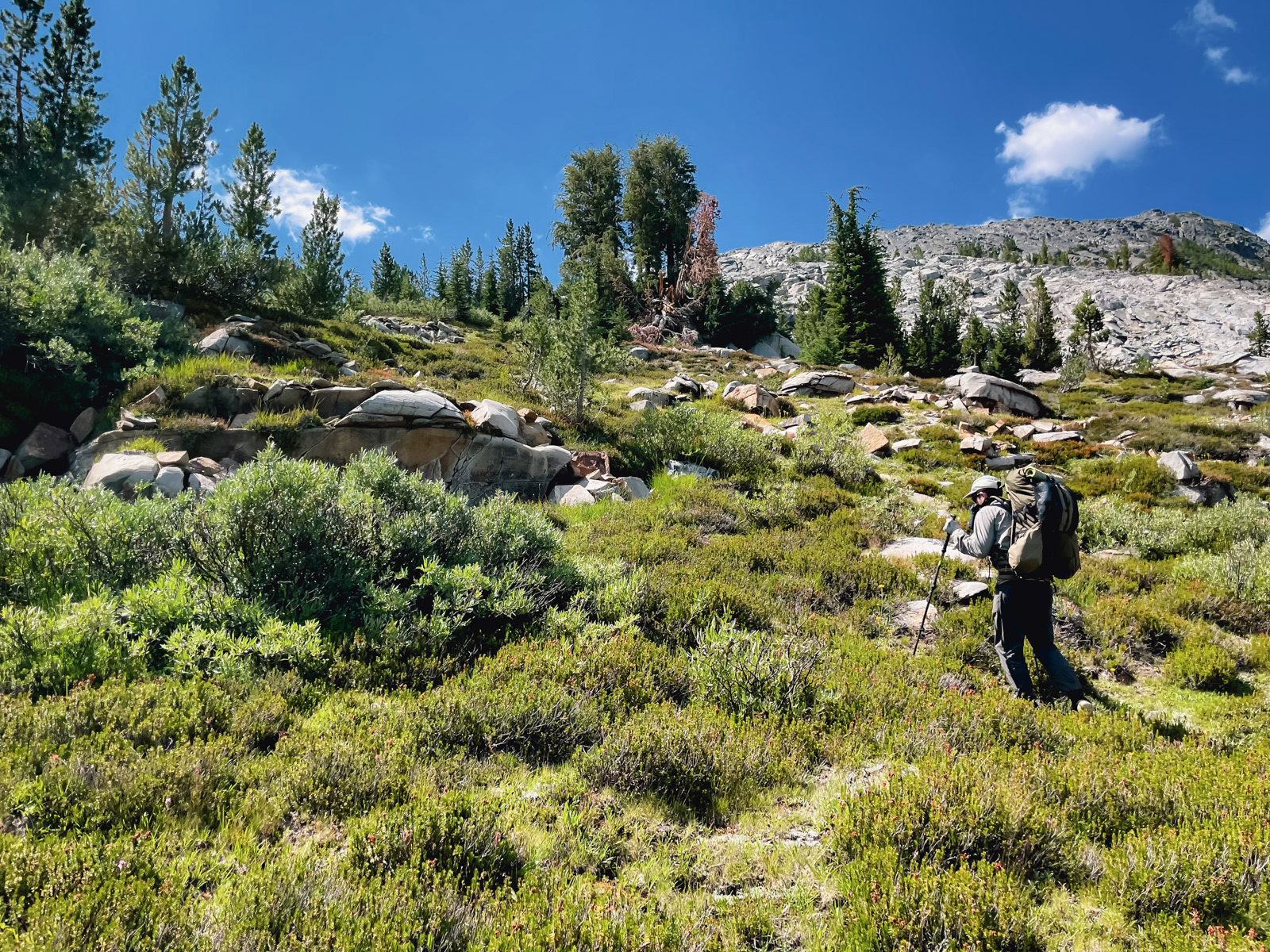 We decided to give it a go, climbing through grasses, mild brush and up and over many fins of granite. (To that point, it would likely be a bit easier to approach from the northeast, where you'd be traveling perpendicular to the waves of granite.)
We climbed our way towards the most obvious spot for the pass. Luckily, I checked the GPS one last time and that seemingly obvious saddle (slightly west of Peak 3143) is too far east and would've dropped us onto the JMT.
We turned southwest and made our way to the real "pass," where we were greeted by the first of several lovely tarns brimming with tadpoles.
As we made our way to the southwest side of the broad "pass," we were confronted with our first clear view of the striking Minarets.
We caught sight of a man descending in front of us. This was surprising, as our unnamed and unplanned pass felt remote and untouched. We soon came to realize that this wasn't just a guy: it was a family with three or four kids. We headed westward, towards the less steep topo lines, and more or less followed this family as they confidently descended the steep and varied landscape.
Eventually we reached a steep chute. The badass hiking family was already at the bottom.

After a bit more steep slab and vegetation (sage!) walking, we hit the old, unmaintained Nydiver trail. We descended all the way to the Ediza Lake trail, which follows lovely Shadow Creek.
It was our first time at this famous lake, and it isn't hard to see why it's popular.

The campsites at Ediza are shunted off to the forest on the west side of the lake. The main camping area was crawling with tents, including a group of 10-15 Black Diamond trail crew tents with a large cooking area and a net tent "living room."
We eventually found a nice spot farther away and spent the afternoon wandering the shore.
Later, I took a walk up towards the meadows above Ediza.
Shadows were building as evening approached and the world was aglow with cascading water, soft grasses, and towering mountains. This quiet half hour may have been the highlight of my trip (though apparently impossible to photograph).
Despite the dour forecast, it had been a beautiful day.

We decided to walk the lonelier northwest shore back to trail instead of retracing yesterday's steps. There is also a decent view from this side.
Unfortunately, the use trail died out in a tangle of large boulders. But soon enough we were wading the lazy outlet back to trail.
The miles between Ediza and Shadow Lake passed quickly.
Shadow Lake, which appears to allow no camping whatsoever these days, was quiet. We took our last break of the trip here.
Towards the outlet of Shadow, we came across a CCC crew doing the hard, slow work necessary to keep the wilderness accessible. (We passed four or five more crews over the rest of the morning.)
The long descent from Shadow Lake to the River Trail was brutal -- all sun, all rocks, no fun. The large groups heading uphill seemed to agree. The River Trail itself isn't particularly interesting either, and seven days deep we were ready for indoor plumbing and real food.
We wandered around Agnew Meadows in a haze, but eventually found ourselves at the shuttle bus stop just as it arrived. Within minutes we were thrust back into the heart of Summertime Mammoth, with kids on ziplines and freshly laundered people everywhere.
We reacquainted ourselves with car speed. We ordered lunch via QR code. We drove home to the rest of our lives.

The Mammoth Follies was physically and emotionally harder than most trips. We were in the mountains during a significant monsoonal flow that radically pared down our intended route. The constant threat of thunderstorms imbued the trip with a low-key static of dread -- one rendered more palpable by the fact that another hiker was struck and killed during one of the storms. It may be a vanishingly unlikely fate, but the lizard brain doesn't bow to mere percentages.
My weird, unexpected blisters meant that practically half of my feet were covered in leukotape -- standard practice for some, but something I'd been lucky enough to avoid. And while I thought I was relatively fit beforehand, many of the climbs left me gasping. 
Of course, those blistered feet lead us through Some Super Striking Sierra Shit, which is the granitic gift that never gets old (because it's already 40 million years old). With the exception of the first and last few miles and some of the lower country around Hemlock Crossing, everywhere we walked was the kind of high level, chef's kiss terrain that I'd recommend to anyone.
For the nerds: Devils Postpile > Beck Lakes Pass > Iron Creek > Hemlock Crossing > Stevenson Meadow > Twin Island Lakes > Lake Catherine > North Glacier Pass > Thousand Island Lake > Garnet Pass > Unnamed Pass east of Peak 3267 > Ediza Lake > Shadow Creek > Agnew Meadows